There's nothing in life that I love more than books about books. As a kid, all I wanted was my very own copies of The Monster Book of Monsters and Hogwarts: A History, and to literally dive in to Jane Eyre like Thursday Next did. Nothing much has changed now that I'm an adult: I still love those magical, escapist novels, but what really captures my imagination these days are the books within films (and books) that don't exist on our plane (yet). Here are five we'd love to get our hands on.
Beetlejuice: Handbook for the Recently Deceased
When Barbara and Adam Maitlin perish in a car accident, they're gifted a copy of The Handbook for the Recently Deceased by their overburdened caseworker. Adam promptly reads the book cover to cover, which presumably is filled with materials on How to Get Rid of the Humans Inside Your House; Selections on Scary Sound-Making; and, most notably, How to Be Dead. While this book might, at first glance, seem like a thrilling read, especially for those who love to follow rules as much as I do, I'm pretty sure it reads something like a stereo instruction manual.
[Editor's note: you can actually buy this one – or at least, you can buy a blank journal and write your own.]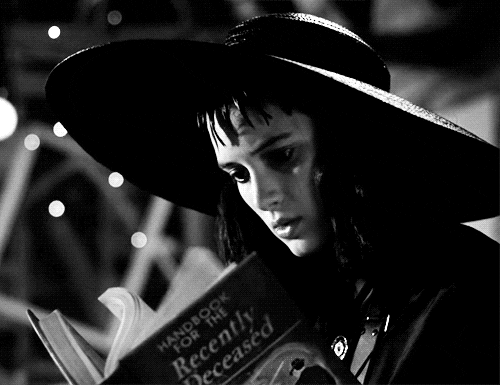 ---
The Witch: The Book of Satan
Whilst I would pretty much give anything to not live in Puritan-era New England, I would give a lot to meet Thomasin in the woods at midnight. Thomasin is terrorized and brutalized by her family and their goat, Black Phillip, until finally she relents and signs her name and soul away in the book of the beast, strips naked and gives in to her inner basic witch when Black Phillip offers her butter and a pretty dress. Pretty good bargain, I'd say. Plus, that book probably has the signatures of some pretty powerful ladies, considering how many are already boogying in the woods near Thomasin's house!
---
The Babadook: Mister Babadook
While this one's got a high likelihood of potentially making me lose my remaining marbles and harm those around me (I am, luckily, childless), I've always had a soft spot in my heart for pop-up books. I'd love to see what Mr. Babadook would have in store for me when he rearranges his pages to suit my sunny personality! Plus, if it's ripped up and burned, it comes right back, good as new and in one piece. It looked hand-stitched, too. Who doesn't love a handmade gift that keeps on giving?
---
Heart-Shaped Box by Joe Hill: Cookbook for Cannibals
I recently listened to the audiobook version of Heart-Shaped Box by Joe Hill. It wasn't my favorite read of the fall by far, but he did at one point mention a Cookbook for Cannibals. I had some fun coming up with an imaginary table of contents:
Everybody's Gotta Eat: An Intro to Cannin'
Salads with (Long)Pork
Pulled Sinew Sandwiches
Head cheese and Digit Crackers
Sweetbread Pudding
---
Misery by Stephen King: Misery's Return
Of course, over the course of the novel Misery, Stephen King Paul Sheldon writes the novel Misery Returns while bed-bound, but I'd love to see an actual release of Misery Returns for the ultra-King fans such as myself. I have a fairly complete library of all of Stephen King's published works, including Charlie the Choo-Choo, another book-within-book book, published to coincide with the ill-fated Dark Tower movie. I've seen some editions of Misery that have a second fun, old-timey mass market romance cover— you know the ones, where there's a woman in white, pale and slim, being held by a big, strapping man. In this case, that big, strapping man is Stephen King himself, but I'd like to read the real Misery Returns.
---