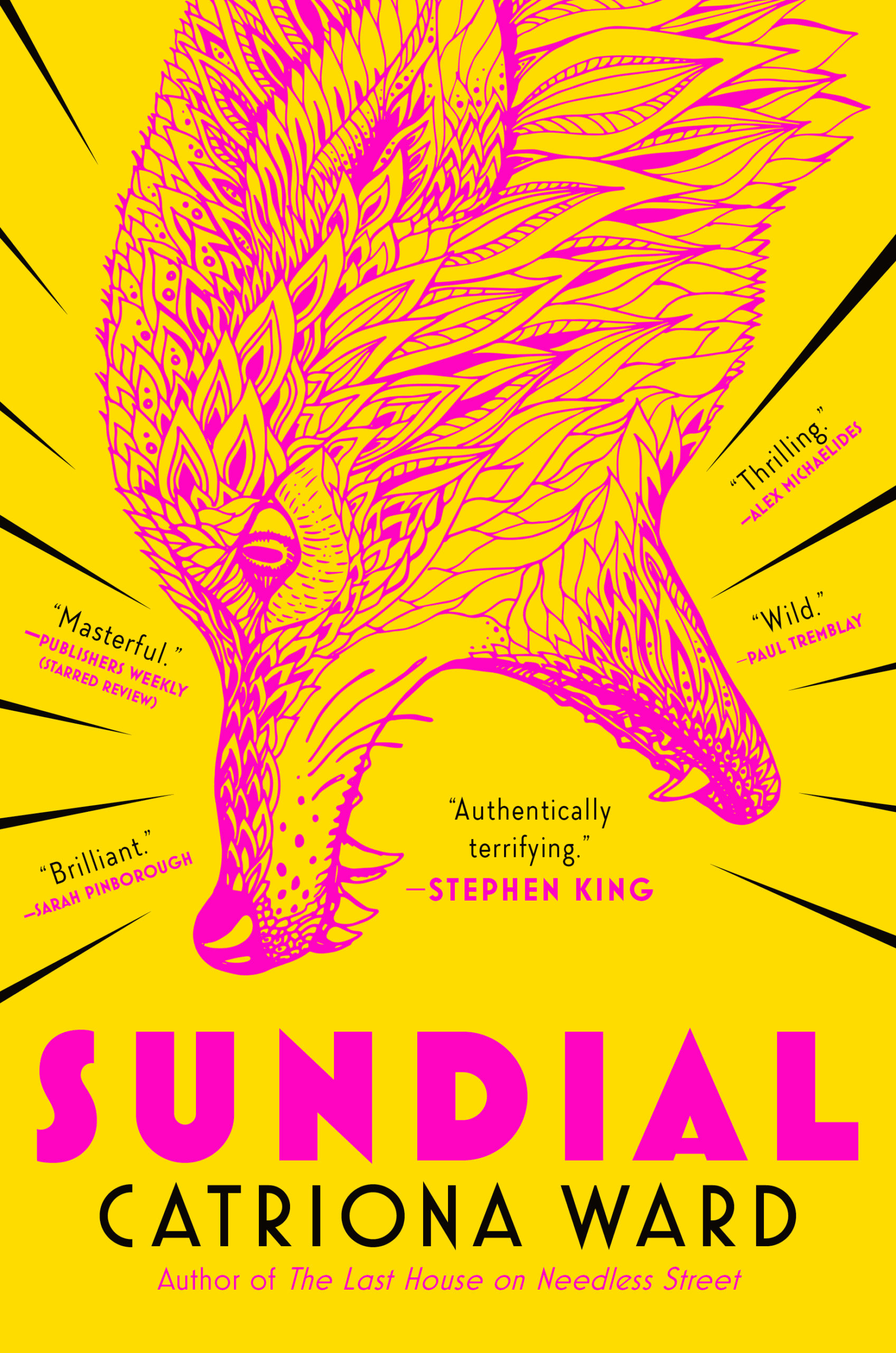 "DO NOT MISS THIS BOOK. Authentically terrifying." —Stephen King
Sharp as a snakebite, Sundial is a gripping novel about the secrets we bury from the ones we love most, by Catriona Ward, the author of The Last House on Needless Street.
You can't escape what's in your blood…
Rob has spent her life running from Sundial, the family's ranch deep in the Mojave Desert, and her childhood memories.
But she's worried about her daughter, Callie, who collects animal bones and whispers to imaginary friends. It reminds her of a darkness that runs in her family, and Rob knows it's time to return.
Callie is terrified of her mother. Rob digs holes in the backyard late at night, and tells disturbing stories about growing up on the ranch. Soon Callie begins to fear that only one of them will leave Sundial alive…
"This book will haunt you."—Alex Michaelides, New York Times bestselling author
"An unthinkable feat." —The New York Times Book Review
Cover art by Corey Brickley
Cover design by Katie Klimowicz
---
CATRIONA WARD was born in Washington, DC, and grew up in the United States, Kenya, Madagascar, Yemen, and Morocco. She studied English at the University of Oxford, and later, completed a Creative Writing Masters at the University of East Anglia. Ward won the August Derleth Award for Best Horror Novel for her debut, The Girl from Rawblood, and again for Little Eve, making her the first woman to win the prize twice. Ward is the internationally bestselling author of The Last House on Needless Street.
---
Praise for Sundial
A LibraryReads Top 10 Pick!
"DO NOT MISS THIS BOOK. Authentically terrifying." —Stephen King
"Sundial is a heart-in-the-throat smash." —Joe Hill, New York Times bestselling author of The Fireman
"Ward is surely one of the most talented writers working in the thriller genre today. A story where nothing is what it seems—a thrilling hall of mirrors full of deeply disturbing twists. This book will haunt you." —Alex Michaelides, #1 New York Times bestselling author
"Ward coaxes Rob's gruesome past open like a toxic flower. …And yet at its core, Sundial is about resilience. …And that, in itself, is an unthinkable feat." —The New York Times Book Review
"Masterful…A must-read for fans of gothic literature and taut psychological thrillers." —Publishers Weekly, (starred review)
"Sundial is as brilliant and moving as you would expect from a Catriona Ward book." —Sarah Pinborough, New York Times bestselling author of Behind Her Eyes
"Sundial is yet another example of Ward's ability to create a profoundly unsettling scenario and drive it to a point of explosive terror. Dizzying, intimate, haunting." —Sarah Gailey, author of The Echo Wife
"Sundial serves up a deeply, deliciously disturbing family mystery." —ShelfAwareness
"As if we needed further evidence, Sundial confirms Catriona Ward as one of the brightest stars in horror fiction. As compelling and unique a voice for the 21st century as Shirley Jackson was for the 20th. She's brilliant." —Christopher Golden, New York Times bestselling author of Road of Bones and Ararat
"Holy moly, Sundial plumbs the psychological depths and traps of toxic relationships, expertly mixing suspense, shocks, and menace. It's a wild, twisted family gothic unlike any you've read before, and one you won't soon forget." —Paul Tremblay, author of Survivor Song and A Head Full of Ghosts
"This novel is reminiscent of the best of Shirley Jackson and Joyce Carol Oates, and I cannot think of higher praise." —Thomas Olde Heuvelt, author of Hex and Echo
"There are two things you must know about Sundial. First, it's a great read, a genius piece of storytelling. But second, this is true horror, the horror of everyday life that we make ourselves blind to, horror that is brutal, truthful, terrifying. Ward knows horror." —Alma Katsu, author of The Fervor
"This is every bit as creepy, individual and gripping as The Last House on Needless Street. Bravo."—Ian Rankin, bestselling author of the Rebus thrillers
"No one is as expert as Catriona at pulling the rug out from under the reader's feet. It's eerily beautiful, haunting, wild, grotesque and darkly dazzling." —Jennifer Saint, author of Ariadne
"Ward has done it again with Sundial. Elegantly horrifying, this tale of a family's darker-than-dark past drives the knife in deep and isn't afraid to twist. It's a desert-dust nightmare with a scorpion's sting, and I LOVED it." —Emma Stonex, author of The Lamplighters
"A deeply dark and unexpected tale about families, love, hate, the long shadow of the past, and the redemptive power of storytelling. Clever, poetic and immersive." —Araminta Hall, author of Imperfect Women
"Absolutely, stunningly, heartbreakingly wonderful. A wild beast of a book." —Virginia Feito, author of Mrs. March